Portugal was one of most dependent countries on intra-EU trade in 2020
Portugal is among the countries most dependent on the European single market.
Portugal is among the European Union countries most dependent on trade with the other Member States. Over 70% of imports and exports by Portuguese companies are to the European market, above the European average of nearly 60%, according to data released on Thursday by Eurostat.
Most EU Member States have the internal market as the primary destination of their exports and origin of their imports. There are only two cases where these percentages do not exceed 50%: Cyprus, which imports over 50% from the EU but exports little to the Member States, and Ireland, for geographical reasons, since its principal trading partner is the United Kingdom.
Eurostat explains that "the proportion of intra-EU and extra-EU flows in total trade in goods varied considerably across the EU Member States, reflecting to some degree historical ties and geographical location." These are factors that also explain Portugal's and other countries' dependence on the domestic market, as is the case of Luxembourg – where almost 90% of imports and exports are within the EU – among others.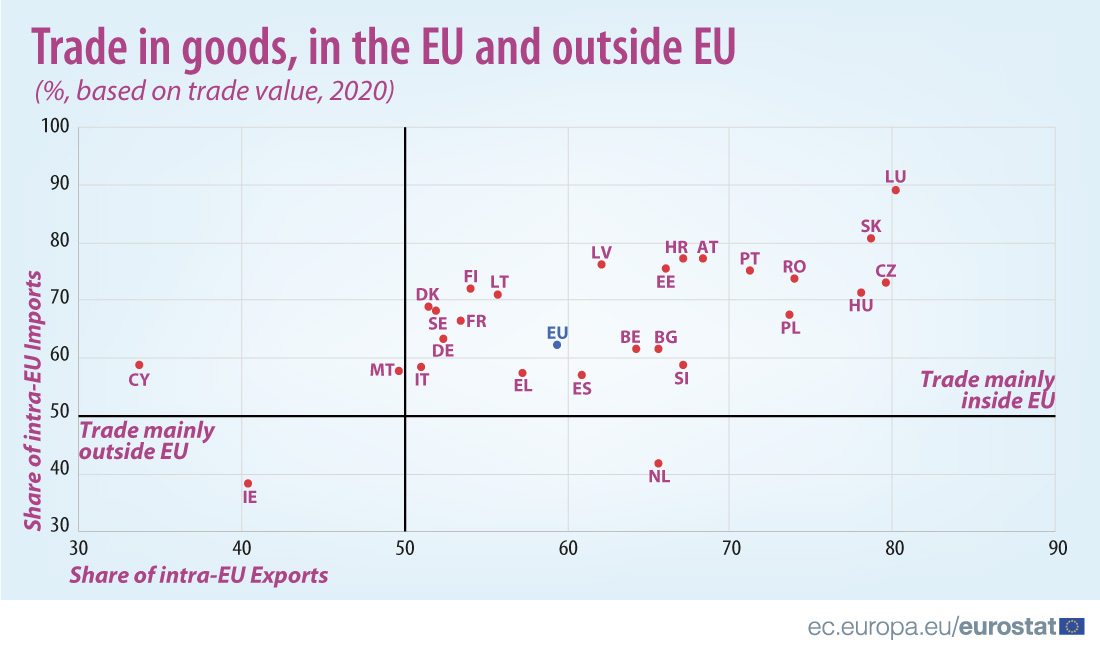 The European agency also makes an analysis of the year 2020 in international trade and the conclusion is that the pandemic has significantly affected trade with a 9.4% fall in exports of goods and an 11.6% fall in imports of goods compared to 2019.
Sill, the European Union increased its positive trade balance in goods with the rest of the world, recording a surplus of 217 billion euros. Since 2011, when a small deficit was recorded, the EU has had a trade surplus.