From the automotive industry to technology, Portugal has managed in recent years to attract foreign investors interested in spending in a wide variety of sectors.
Confidence, stability and growth are factors that contribute to the increase of foreign investment in Portugal. After a tourism explosion in the national territory, the country has been trying to gain relevance on other fronts, especially on foreign investment, according to presidents of different Chambers of Commerce.
Last year, the Portuguese Agency for Investment and Foreign Trade (AICEP) revealed that it contracted 1.172 billion euros in foreign and Portuguese investment, 1.1% more than in 2018.
In total, 46 foreign direct investments were contracted last year, covering 15 countries. The podium belongs to Germany (12 projects), France (11) and Spain (8).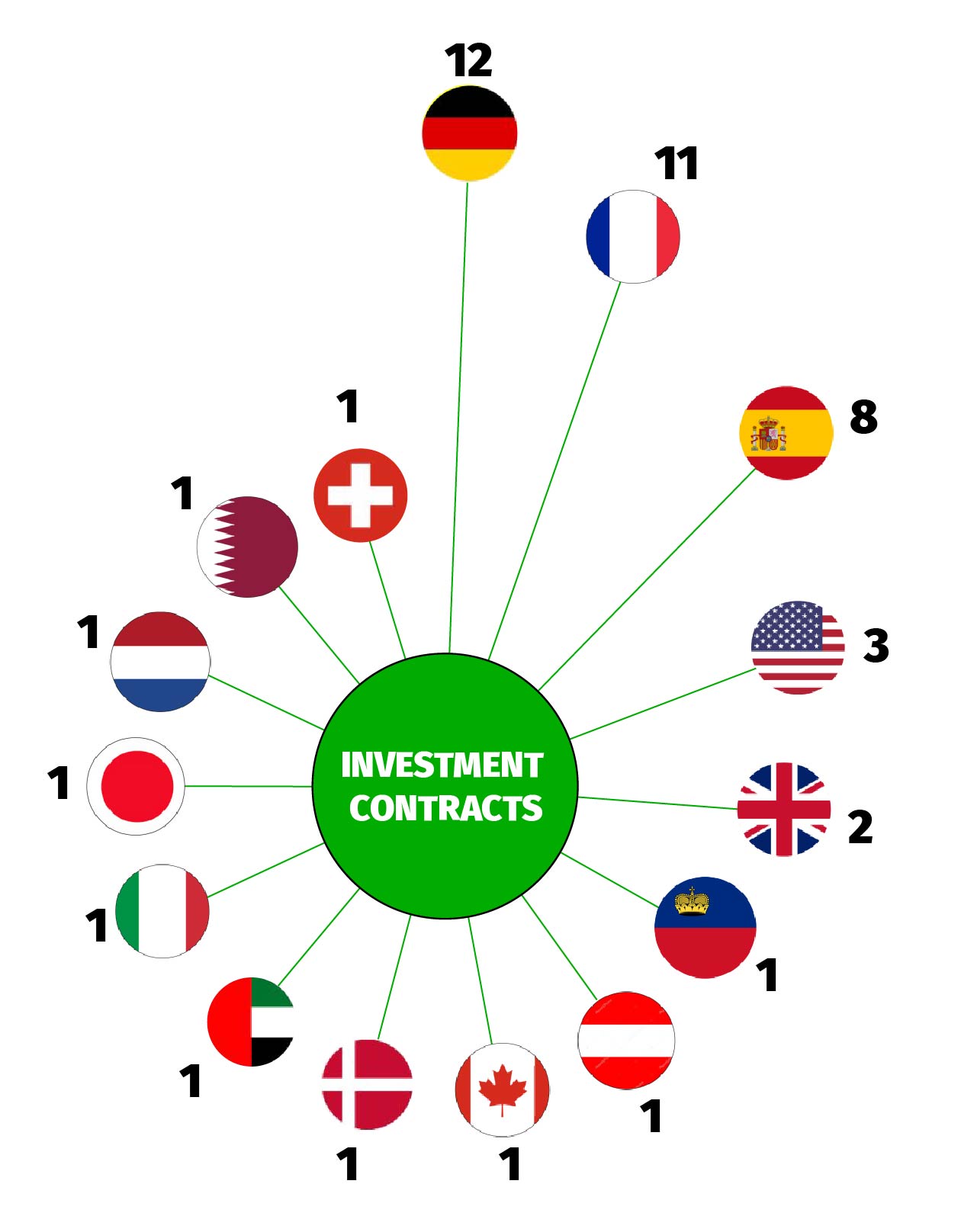 After the recession period that affected the country, between 2011 and 2014, Portugal managed to recover its economy, reduced unemployment and sought to be an attractive country for investment. Something that has been making a profit in the last two years.
ECO talked with the presidents of five Chambers of Commerce (Portuguese-Japanese, Portuguese-British, Portuguese-Spanish, Portuguese-Arabic and Portuguese-German) in an attempt to understand how attractive Portugal is to foreign investors.
From political stability to low wages
When questioned, the five Chambers of Commerce were unanimous in their answers and highlighted that the country's main strengths when it comes to investing are political stability, low wages and social peace in Portuguese society.
"In recent years, the Germans have been betting on Portugal because of the highly qualified workforce at a lower cost, compared to other European countries. Besides that, the good climate also helps a lot," explained to ECO Hans-Joachim Bohmer, executive director of the Portuguese-German Chamber of Commerce (CCILA), about the characteristics that most please investors in the country.
We have had countless companies looking for a new country to invest in, and Portugal is usually on that shortlist of most attractive countries.
"We have had countless companies looking for a new country to invest in, and Portugal is usually on that shortlist of most attractive countries. One important factor is the proximity to the European market, in other words, it is also an alternative to Asian markets: because, on one hand, these companies have a guarantee of the quality of a product that is manufactured in Portugal and, on the other hand, the country can give a quicker response, due to its location," he underlined.
João Nabais, President of the Portuguese-Arab Chamber of Commerce (CCIAP), said social peace and the easy integration of immigrants are also characteristics that can help us highlight from neighbouring Spain.
"Portugal is the third safest country in the world and this is an advantage with investors. Many Arab ambassadors tell me: 'In Spain, the Vox party talks about the Reconquista and that's crazy'. After seeing what's going on in Spain, investors look at Portugal with a certain comfort. Sympathy is a friend of business," said the president.
In short, Portugal's own relationship with Portuguese-speaking African countries (PALOP) is another attractive aspect listed by the Chambers of Commerce.
"The characteristics that set us apart from other European markets, and which have attracted some foreign investment, are political stability and social peace. However, another positive feature is the possibility of access to CPLP countries. As Portugal is not a central point in Europe, the country can be used as a strategic point to enter markets in other continents, namely the African one," indicated Paulo Ramos, president of the Portuguese-Japanese Chamber of Commerce (CCILJ).
Foreign investment is spread across different sectors
According to data made available by AICEP, the sectors with the most investments in the national territory in 2019 were tourism (36%), automotive industry (20%) and other manufacturing industries (14%). However, in recent years, investment has spread across all sectors of activity, from retail to agriculture.
"Spanish investment in Portugal is very diversified, in some cases investments are  on sectors that were apparently not 'coveted'. Recently there has been a growth in the retail area, such as Mercadona, and it has also been said that El Corte Inglés may expand its activity in Porto," revealed Enrique Santos, President of the Portuguese-Spanish Chamber of Commerce (CCILE).

In the case of the Germans, the investment has turned to technology and industrial production, with Bosch, which is located in the city of Braga, as a flagrant case.
"It is in the area of technology. We also have important businesses in other areas such as industrial production or the automotive industry, such as Bosch, which produces car radios and GPS, or Autoeuropa [Volkswagen]," Hans-Joachim Bohmer said.
From the UK, the focus has been on financial services, "especially the BackOffice part and support structures. A focus, from the perspective of Filipe Lowndes Marques, president of the British-Portuguese Chamber of Commerce (BPCC), is due "to the fact that in Portugal it is easy to find qualified labour at a lower cost."
For investors in the League of Arab countries, the interest has traditionally focused on the car industry, but now agriculture is gaining a prominent place which. According to João Nabais, it can be a very profitable sector for Portugal in the future.
"There has recently been a great deal of interest in the automotive industry and agriculture. This latter sector has gained importance because it is an area that has insufficiencies in many of these countries and they look to Portugal as the ideal place for agricultural production."
For the Japanese investors, there has been a growing interest in food activity in recent years, with one of the largest tomato processing units in the world, HIT, present in Portugal.
"The auto industry is very strong in Japan and there is always an interest in investing in this sector, which can represent very large investments. However, is important to say that the food sector has also gained relevance in Portugal. We currently have a 'giant' in our country that is HIT, which is part of the Japanese Kagome group that dominates almost the entire tomato processing industry worldwide," explained Paulo Ramos.
Portugal is attractive, but there are some weaknesses
Although the number of investments has been growing every year, Portugal continues to be in a fragile position in economic terms, and there are still 'ghosts' from the recession that continue to 'hover' over the national economy and will be difficult to overcome.
The country still has the third largest public debt in the European Union, which stands at 140% of GDP in 2018, and one of the lowest labour productivity rates on the European continent.
"We are very fragile compared to other countries, and I do not know how we can overcome that. That's the fact that the financial crisis has shaken Portugal and left the banking sector in its wake. Furthermore, we still have a very large public debt and are dependent on exports to the member states of the European Union," said João Nabais of the Luso-Arab Chamber of Commerce.
Another problem that is constantly enumerated by the Chambers of Commerce is excessive bureaucracy. This is an obstacle that can undermine the confidence of investors who intend to inject capital into the country.
"There are still things we need to improve, like excessive bureaucracy, slow processes – which are not exactly conducive to the business life," warned the president of the Luso-British Chamber of Commerce.

Like bureaucracy, the abrupt and systematic change in the tax regime is also a big problem for investors. A problem highlighted by the Luso-Japanese Chamber of Commerce.
"The Japanese people, especially when they are doing business, like to plan for the (very) long term. So one of the biggest obstacles we have is the constant changes in the tax regime and even the support that is given to companies. They often change every two years and that's critical for Japanese culture."
Fragility does not overlap with Portugal's potential
Although there are weaknesses in Portugal, the presidents of the Chambers of Commerce have been unanimous in stating that the country has all the conditions to be one of the main European focuses of foreign investment soon.
"If things are done well, there's no reason it shouldn't be [one of the main focuses of investment in Europe], and it's extraordinary that even with fiscal uncertainty, excessive bureaucracy and some slowness in the justice system, investors are still interested in betting on Portugal," Filipe Lowndes Marques said.
Portugal is today one of the most interesting countries in Europe to invest in.
To put Portugal at the centre of attention, globalisation and the internet may emerge as necessary elements for the country to reach this level.
"If the country focus on technology companies, it will be easier to fight the issue of location and be on the same level as other European Union countries, because today with the internet we can work anywhere," Hans-Joachim Bohmer pointed out.
"In a globalised market, size is not the decisive factor. The Portuguese market will have to find intelligent solutions and be able to attract investment," added Enrique Santos of the Portuguese-Spanish Chamber of Commerce.
However, João Nabais goes further and guarantees that "Portugal is today one of the most interesting countries in Europe to invest in."