Portugal is the world's fourth best country for expatriates
Portugal climbed one position in the Expat Insider ranking. Expatriates praise quality of life, but make negative assessment on career prospects.
Portugal stands out among the best destinations for expats, ranking fourth in the Expat Insider 2022. This result represents an improvement compared to the previous year's ranking, but is still outside the podium achieved in 2019. Foreigners who have left their country highlight the quality of life in Portugal, as well as the ease of settling in, but make a worse assessment of working conditions. As for personal finances, they mention the low cost of living but also the low salaries.
The ranking, which includes 52 countries and is led by Mexico, assesses various indicators, and Portugal is in the top 10 regarding Quality of Life (4th), Ease of Settling in (7th) and Personal Finance (10th). In the Expat Essentials index, the country is in 19th place, with the worst result even in the index which evaluates working abroad (35th).
Overall, 85% of expatriates are happy with their life in Portugal, compared to 71% globally, highlighting aspects such as the climate, safety and leisure options, namely sports. Overall, 45% of expats intend to stay in Portugal forever, while just 35% of expats worldwide say that about their respective host country.
The negative side emerges in the employment aspect. The index with the worst evaluation is career prospects, in which Portugal is among the 10 worst worldwide (43rd). Expatriates "are unhappy with the local job market (39% vs. 27% globally) and their personal career opportunities (27% vs. 22% globally)," says InterNations, the organisation that created the ranking.
Salaries are another negative point, although expats admit that the cost of living is not high. Nearly two thirds of foreigners working here earn less than $50,000 a year, compared to 53% globally, and 24% earn less than $12,000 a year (vs. 18% globally). It should also be noted that a large portion of expats in Portugal are retired (27% vs. 10% globally) and another portion work part-time.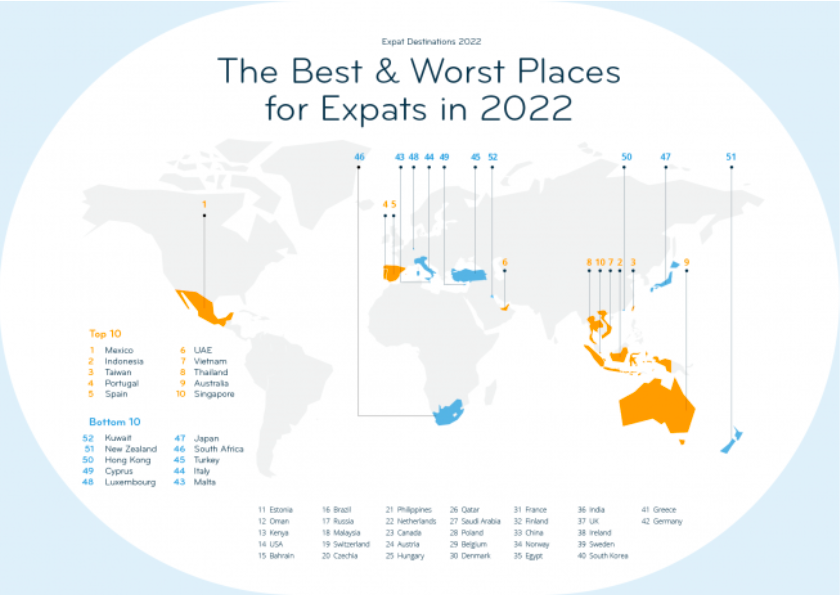 In this ranking, which received answers from 12 thousand participants, the first place goes to Mexico, which was considered the easiest country to settle in and make friends, and the second best in terms of personal finances. The podium is completed by Indonesia, with expats finding the income more than enough to lead a comfortable life, and Taiwan, which scores well in financial security and stability.
On the other hand, Kuwait (52nd), New Zealand (51st) and Hong Kong (50th) are at the bottom of the ranking.