Portugal's GDP falls by 3.3% in Q1
The Portuguese economy contracted in the first quarter of 2021, mainly due to the country's second lockdown.
As expected, the second lockdown affected the Portuguese economy at the start of 2021. According to the flash estimate of Statistics Portugal (INE) released this Friday, the country's GDP registered a quarter-on-quarter rate of change of -3.3% and a year-on-year rate of change of -5.4%.
Last year's fourth quarter, Portugal's GDP had grown by 0.2% quarter-on-quarter and fell by 6.1% year-on-year. In fiscal year 2020, the economy registered a 7.6% drop, the largest fall in Portuguese democratic history. However, the government's expectation is that the GDP will recover by 4% in 2021, benefiting from a strong recovery from the second quarter.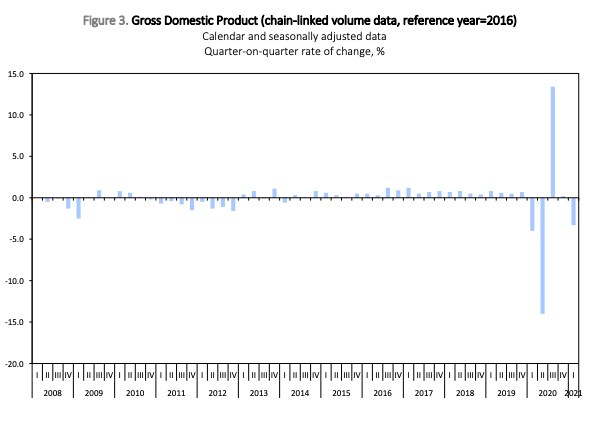 "Gross Domestic Product (GDP) in real terms registered a year-on-year reduction of 5.4% in the first quarter of 2021 (rate of change of -6.1% in the previous quarter), reflecting the effects of the general confinement enacted earlier this year due to the deterioration of the COVID-19 pandemic," the statistics office reveals, adding that "the evolution in year-on-year terms is influenced by a base effect, since, for the first time, the comparison focuses on a quarter already affected by the pandemic in the last month (March 2020)."
However, compared to the fourth quarter of 2020, Statistics Portugal says the country's GDP fell by 3.3% in real terms, "after the slight increase (0.2%) registered in the previous quarter."
On May 31, the INE will publish a complete version of the economy's evolution in the first quarter, where it will be possible to better understand this economic contraction at the beginning of 2021.