Portugal's economic indebtedness reaches 360.2% of GDP in June
After the significant increases in the indebtedness of the economy in April and May, the figure fell in June by around 5.2 billion to 735.4 billion euros.
The indebtedness of the Portuguese economy fell by around 5.2 billion euros in June, to 735.4 billion euros, below the record set in May above 740 billion euros, according to data from the Bank of Portugal released this Thursday.
However, indebtedness as a percentage of GDP soared by almost 20 percentage points in a single quarter, from 340.8% in the first quarter to 360.2% of GDP in the second quarter. Contributing to this increase is not only the higher level of indebtedness in June compared to March (723 billion euros), but mainly the historic fall of 16.3% of GDP in the second quarter.
Although the non-financial sector indebtedness fell in June compared to the previous month, this was overshadowed by the record drop in GDP. The debt ratio at 360.2% of GDP is the highest since the second quarter of 2018 (361.06% of GDP). This indicator peaked in the second quarter of 2013 (426.6% of GDP) and has been falling since then with the recovery of the economy and the reduction of economic agents' indebtedness.
This trajectory has now been interrupted by the pandemic crisis, which forced more indebtedness, namely through credit lines with state guarantees, and an abrupt fall in economic activity and, therefore, in GDP.
In June, compared to May, public indebtedness fell the most because of an 8 billion euros in debt repayment, which led to a drop of around 6 billion euros in public indebtedness, according to central bank data. In private companies and individuals, debt continued to increase, but more slightly.
"At the end of the first half of 2020, non-financial sector indebtedness stood at 735.4 billion euros, of which 327.5 billion euros referred to the public sector and 407.9 billion euros to the private sector," the Central bank said in a statement, adding that "compared to the end of 2019, non-financial sector indebtedness increased by 16.7 billion euros."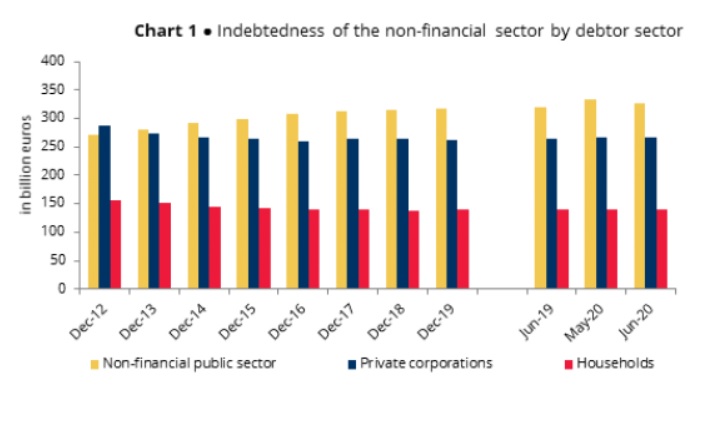 "This [increase] was caused by the 10.1 billion euros raise in public sector indebtedness and by the 6.6 billion euros increase in private sector indebtedness," further explains, noting that most of the public sector debt was financed by the financial sector