Nine years after the first Web Summit, Paddy Cosgrave focuses on the event, talks about Lisbon, politics and the naivety needed to make things happen.
When he was 20, he thought it would be an academic for the rest of his life. He was already writing papers in a university newspaper when, at the end of his third year, he realised that wasn't his path.
At 36, and nine years after the first Web Summit, Paddy Cosgrave analyses the past and sets goals for the next decade of the event which will take place in Lisbon. In a conversation with ECO, he recalls the first years of the conference, the criticisms of the cities that were left behind, the reasons that led Lisbon to "steal" his heart and how naivety is fundamental for those who want – as he wanted – to start something from scratch.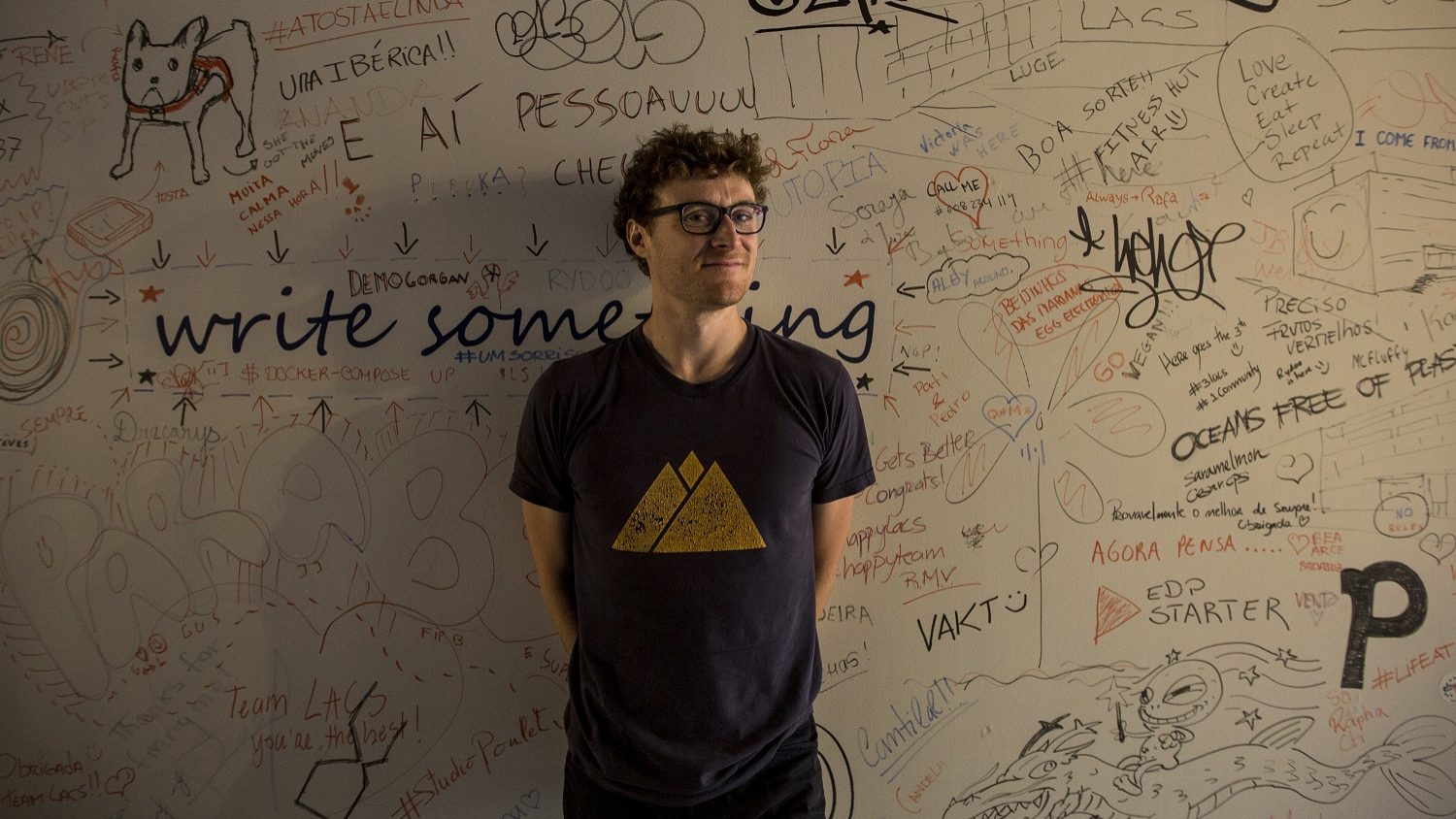 You grew up on a farm near the big city. At what age did you have access to the first computer?
My house was 15 kilometres from downtown. I had my first computer when I was zero years old. My father studied mathematics and computer science at a university in Dublin and worked for a company now called PwC. He grew up in the city but decided to move to the countryside and become a farmer. We went to live far from the city, but at the same time, he was obsessed with Apple computers. Since the day I was born in 1983, I have had free access to computers.
Besides my father, our next-door neighbour was a PC fan, and he had better games in the 90s.
We also had game consoles: my dad imported our first Nintendo very early on. The atmosphere was very rural, practically with no neighbours, we could walk between houses, we didn't need to drive, but we had internet from very early on. I assume it was normal: in the two houses where I spent the most time – ours and the neighbours' – I had access to those elements.
Did it come from that contact your taste for technology?
Maybe. At school we learned to program from the age of 12, at 15 I gained more interest in design, and when I went to university, I discovered people who were much better programmers than me. I was interested in building software but did not understand what I was doing, how I could actually do it. So I started doing two or three things with two or three people – who were fantastic engineers. I was designing the product that we were trying to develop which, in 2005, was kind of social network. I was working at the time with a friend named Dave who, in the end, built a very interesting company and sold it for a lot of money.
I was interested in building software but did not understand what I was doing, how I could actually do it".
How does the Web Summit appear from this project?
I graduated in 2006. The first version of what would be the Web Summit I started working on was in May 2009. But the first edition of the Web Summit was in October 2010. A year earlier, I had started making small meetups, something called "Lectures Ireland", which was an informal meeting of founders, with about 100 people. It was from there that it began to take shape.
In June 2010 we made a small version of the Web Summit and David, my co-founder who was living with me at the time, quit his job and started working on the project full time. We started to grow from there.
What were the main difficulties at that time?
Until 2012, the idea was not to make it our main business. This only happens when, in March 2012, I became a full-time member of the project. Even so, only a few months later, in August, we managed to get a decent salary.
Sometimes, the best businesses start out as a passion, a hobby, and turn into a business. This means that your heart remains there for a long time, that you are fascinated by this thing. One of my friends is a car designer, that's what he does and that's his passion. He'll never get bored with it. For him it's not a business, it's just his passion. Just like the Web Summit for me is a passion. I'd be happy to do it for the rest of my life.
The Web Summit for me is a passion. I'd be happy to do it for the rest of my life".
What do you love: connecting people, certain topics, building an agenda, technology as a whole?
I have many passions. Bringing people together is one of them. New things too. It's incredible to have, for example, the president of Microsoft coming to the event every year, and he likes to come. I like him to come. But I also think these people are interested in knowing what comes next, just like me. And that changes every year.
Not everyone who comes to the Web Summit wants to know about small stands. But people in charge of Uber, Stripe or Dropbox, they all started out like this… Uber, Stripe or Dropbox, they all started like that, even Bill Gates or Steve Jobs. Google guys didn't start in big headquarters, they started in a garage. I'm still interested in the next innovations, I love meeting entrepreneurs from different parts of the world.
Last week I met with the Portuguese President and two things impressed me: the first was that the first time there was a meeting, in 2016, most of the people who were there were men and Portuguese. This year, perhaps half were women, and a third were foreigners. They consider that Portugal is a good place to grow a company. It's interesting to talk to some people who say that nothing can be done in Portugal. All these people, coming from different parts of the world, say… "ok, whatever".
Is this a "Web Summit effect"?
It's a combination of things, although I think it matters. If you read the Financial Times or The New York Times, everyone writes that Portugal is the California of Europe. Talking to Cloudflare's CTO, for example, they were looking at various locations, had a rigorous selection process, and had several cities they were considering installing the office. But the company's CTO came with his wife to Lisbon, and they were very impressed with the city. They found Lisbon very pleasant.
Is Lisbon a good place to start a business?
A few years ago, I heard complaints about too much money being spent in universities and the excessive number of computer engineers trained in Portuguese universities. But I think that has become one of the reasons many European companies open technology offices, and not just customer service, in Portugal. It has to do with an offer that has exceeded needs for a few years. These people come and work for companies like Cloudflare, which is based in Silicon Valley, the CTO living in Lisbon and doing core technological development from Portugal. These are the types of people who live and create the next wave of companies, from my point of view.
How was it, personally, to leave Dublin and come to Lisbon?
It was very difficult, like a broken-hearted story. I never thought I'd be able to get out of there one day, but I had to. The conditions that the city offered were not enough for us to grow, but leaving the city was very difficult for us because we saw that it was very difficult for the government to answer our questions. I could meet with people on Downing Street but never with those.
"(Leaving Dublin) was very difficult, like a broken-hearted story."
Many people ask me about a kind of fatigue about Portugal. International newspapers talk about the country, about startups, about Lisbon as a "startup capital", and these people said that it was a bit of an exaggeration, that it sounded like a joke.
I think these conversations are funny because, in my mind, when we were dealing with different proposals from countries in France, Germany, the United Kingdom, Italy and Spain. Spain's assumption was "let's sign a bigger cheque". In fact, they were so confident that politicians even came to speak with us and said that the government was going to sign a cheque for 107 million. Politicians don't come out and say this normally, afraid they'll be embarrassed afterwards.
Given such a high financial offer, what made you choose Portugal?
First, this assumption by Spain to consider that, as they already made a series of major world events, our choice in relation to them would be more or less natural. What I thought was that in a small country like Portugal, the Web Summit brand made sense because our brand is not a very corporate brand. Ultimately, the Web Summit is a startup event, and that has to do with Portugal.
We left a smaller country like Ireland for a slightly larger country and that hurt. Since I didn't go to Spain, they will never forgive me. But it wasn't just the money. We did not choose the biggest proposal, there was a 50% bigger proposal on the table. We chose the lowest proposal.
Why is that?
For several reasons. It is the spirit of the event and the fact that if we went to one of the five biggest economies in Europe, they would all have bigger events. We would be one of dozens of important events that they would have in one year. If we wanted to do something, to have particular challenges, we would be one of the 100 priorities. In the case of Portugal, we are one of the most important events, that brings advantages. If there's a problem or a challenge, it's easily solved.
For example, the airport is fantastic. Imagine what it would be like to have a problem at Charles de Gaulle, and they'd tell me to take a walk. Or they'd say 'I'm sorry, we have a strike'. And that happens in various elements of the event.
It's often said that the devil you know is better than the one you don't and, at the time of the decisions, it was interesting to see the huge movements of big governments like Pedro Sánchez's, but… I like the humility of Portugal, I also come from a small country. And arguments like "if you do that in Portugal, imagine what you could do in a country with a GDP six times higher, as in the case of Spain" are always pointed out. It seems to be illogical in the short term, but in terms of the brand, it was the right thing to do.
At the time, we also had to choose between Amsterdam and Lisbon, and it made sense to go to a northern European country, but there was something about Portugal, something was happening: the country was coming from several difficult years, many people were in favour but some were reticent because there were many new people leaving the country. That was the case in 2015. Now, I often fly from London to Lisbon, and I know people who have worked in the city for the last eight years but are happy to return to work here. It's a different moment. It's the same country but a different moment.
In 2015, the plan was to close the gap between politicians and normal people. Is it still your strategy?
What is interesting at the moment is that both national and international politicians are increasingly asking themselves whether it is the right time for innovation. We also have innovative companies that are now so big that they are diminishing their capacity for innovation for newer companies. And that was not so clear in 2015. At that time the issues revolved around more than European countries could do to increase investment in venture capital. Now there is a deeper approach that has to do with competition, taxes – which is a vast and very important topic – privacy. These themes took up little space in 2015.
Vestager, Zuckerberg… they all usually make headlines…
Yeah, suddenly we got Facebook responding to Congress. I don't think Mark Zuckerberg is a bad person, but it's very difficult to defend Facebook's privacy policies; I feel him trapped in a bad place. He's a decent person, but the company is in a complicated place. Margrethe Vestager's presence is also a consequence of that: she's one of the most important politicians in the world today because she's shown us significant leadership positions and has been following important policies in this area ever since.
In 2017, the event in Lisbon gave a profit of three million to the organizing company. What are the growth plans of the Web Summit in the coming years?
The event in Toronto is already big, and I think it will grow a lot in the coming years. Our goal is to have the same size as the 2018 Web Summit in 2023.
Do you want 70,000 people (which would double the current participation)?
There are several metrics, and many exhibitors had more space at Collision 2019 than at the Web Summit in 2018. The perfect situation for attendees is that there is plenty of room, places to sit on each stage. But the exhibitors want more. The ideal for them is to have lots, lots of people. So we still have a lot of work to do at Collision, but I see good prospects for the future. RISE is doing well, China is still very interesting, Huawei's chairman is coming this year, it's very exciting.
If you really knew how risky it was to chase certain things, you might never do it".
Regarding the company, are there any plans for an IPO?
In recent years, some of the biggest investors in the world have wanted to put money in the Web Summit and I told them no. Almost every entrepreneur I talk to tells me that staying independent ensures a focus for a longer-term view. If there's investment from the outside, these people want their money back in three, five, seven years. But that requires compromising the vision for a while. We want to keep working like this, keep our freedom.
The Lisbon office opened two years ago. In September, they announced the opening of a second Portuguese office in Porto. They are now moving to a larger office in the Portuguese capital. The idea is to continue to grow?
The office we had until now in Lisbon was not particularly large for the 15 people we have. The plan was to go to Beato in 2016, but it wasn't ready. Then we tried to change in 2017, and it wasn't ready either. And then in 2018, and it wasn't ready. Here we have room to grow, it's near the metro station, we looked at several spaces, but it has the ideal characteristics for what we need now. We plan to grow this year. And in the total company, we are already 246 people.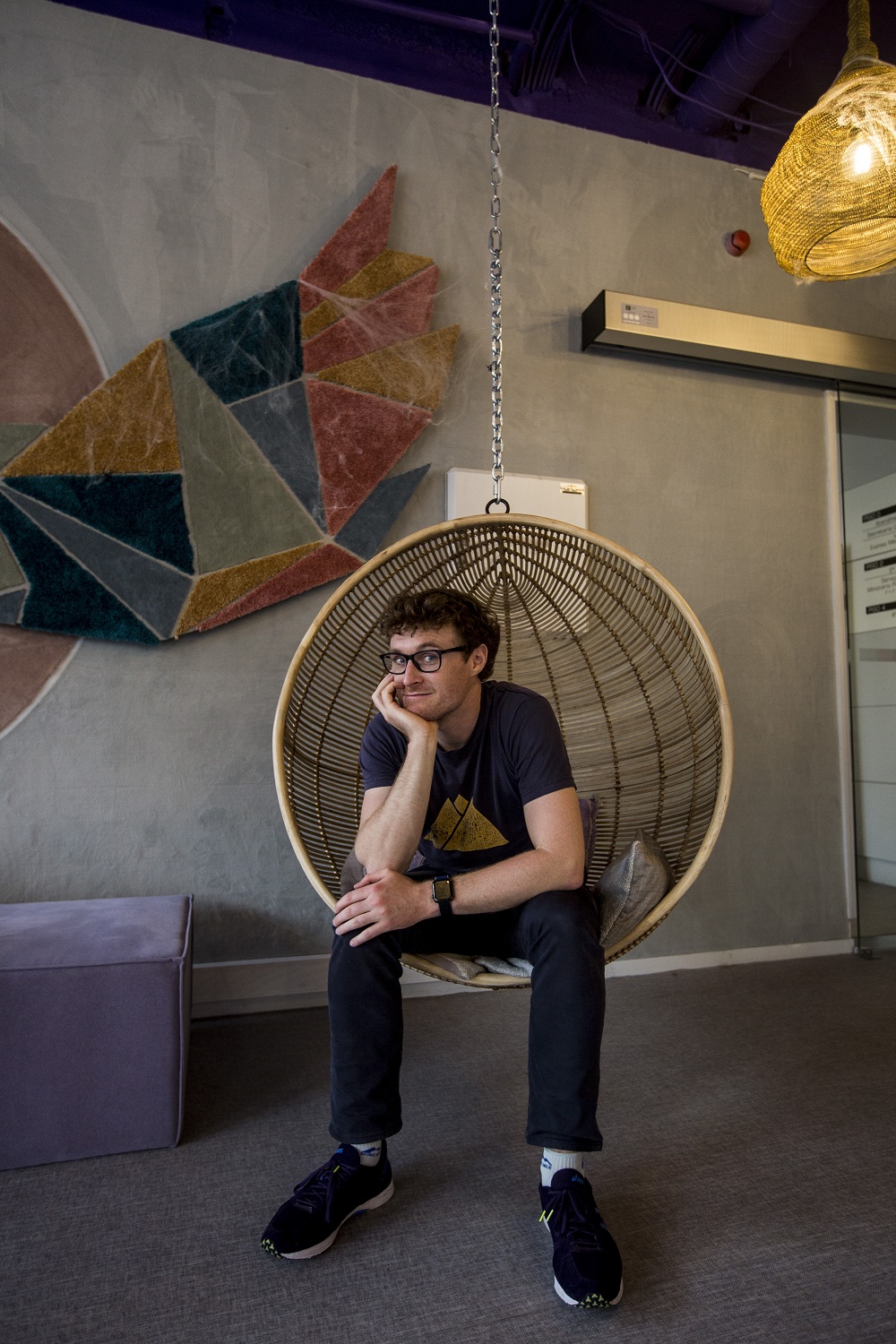 What would today's Paddy say to 15-year-old Paddy?
That ingenuity plays such an important role in life many times. If you really knew how risky it was to pursue certain things, you might never do it. I think many entrepreneurs are based on that naivety, instinct and passion. And of course, then you're either lucky or you're not, and your life takes certain paths.
For example, in your career, if you choose a more classical profession, as a lawyer or doctor, the path is clear. But for several other professions, you never know what you will do. I don't know what Paddy of 36 would say to Paddy of 15. Maybe something related to the things I'm passionate about.