In an interview with ECO, Nuno Sebastião talks about the company's next steps in the fight against bank fraud, the production of pure knowledge in the country, and the freedom to "ride" a unicorn.
"How are you feeling?" I ask. Nuno Sebastião, co-founder and CEO of Feedzai, which today unveiled its most recent Series D funding round of 200 million – which gives it unicorn status awarded to startups valued at over $1billion – replies, "It's cool!".
Nuno confesses "tiredness" for having been, via Zoom, with the team, celebrating the news that the company had known for some time but that the market had been anticipating for years. "Very tired but, at the same time, very euphoric. I'm excited, this is amazing. I'm thrilled", he points out, in a conversation with ECO.
The news that Feedzai could be the next Portuguese unicorn had been anticipated for years. Why did it take so long to become true?
Internally, we had known for a long time, but there were a number of things here: we, very stubborn, wanted to do this from Portugal, with a Portuguese team. We were signing the documents and, on our side, we were only Portuguese: us, the legal team, the internal team. On the other side, people from San Francisco, New York and London, and we negotiated everything here. That takes effort, trying to explain how this works.
Why?
First, because they want to "play at home". Then, because we have particularities, our legislation, our rules, which is neither good nor bad. Only then you have to explain. And on the other side, they tell you "but we don't do it like that". But that's the way it is here, and that generates some discussion. The fact that we have done everything here, everything with Portuguese people, has lengthened the process.
When you raised the €50 million round, you mentioned the "freedom to say no". Does this new round give you even more freedom and… even more responsibility?
We have had many offers in the last two years and we have said no many times. You see, this is not just the evaluation. When you negotiate something like this, you negotiate two things: evaluation and control, and very few people get both. Most people have the evaluation but lose control. There are others who have control but a lower evaluation. To have both is complicated.
I think we got it – and that's very cool – because we didn't need it. And when you don't need it, you decide, you control and you can choose. Because we didn't need it and we weren't pressured, we were able to choose our terms. We were the ones who did the termsheet; "do you want it? sign under it". That's not how it happens in general.
What is it like when that happens?
On the other side, there are people who genuinely believe in you and in the project, and they sign because they bet on you, because if you think it works, they trust you. And there are others who are picking up on the comma and other details, and you don't want to work with them because they will give you work ahead. What we did in the last round was that way, and even more so now. We have more freedom today, and more credibility than we had then. And then we have this muscle of authority: KKR is the biggest worldwide. It's cool, it's amazing.
How does it feel to "ride" a unicorn?
This is almost personal, but I'll say what I mentioned today at home: "I feel like I'm wearing the same socks" (laughs). I mean, it doesn't change anything. I've had calls with the board, and the question is, "what's next?" Something like this is not a goal, it's a consequence. Today we are a big and strong company. Now, whoever invested in you, did so with the ambition that it can be even bigger.
What I said to the team yesterday was that now investors come and ask, "where is the accelerator?" Because now it's to accelerate more. That's what changes.
First, the team deserves it; it's a stamp, the guys were very happy. Then, for the market and for our clients, it's validation that they made the right bet. Spectacular. For us, in a way, it's a responsibility. Because now we are going to keep this company independent, keep it in Portugal. Currently, 32% of our headcount is pure product and research. We have people in Portugal producing what I call "primary knowledge": these are the people who are inventing things. Using a simplistic analogy, we are not ordering car parts designed elsewhere to assemble them here because it is cheap, that's not it. We are building everything. And we're creating knowledge: using this dorky analogy, we think about the idea of "what's that and what's the next engine going to look like?" Because that's where the value of creation is. And we, with these investments and with this independence, can continue to make those bets.
Do you still feel that "it has only just begun"?
Even more so. If you ask me, three or four years ago, "would you get here?", maybe it was a dream, it was possible. But now that we've arrived, we're only looking ahead. Why is that? It's not because of excessive ambition, it's not that. It's because you genuinely have the opportunity to create an independent company in this area and a world leader. And that's cool.
That's the word… "cool"… (laughs)
You have almost an obligation, apart from giving you a lot of personal enjoyment, to continue on your way. You have an opportunity that you can't throw away. This has some personal cost, of absolute dedication, but if you ask me if I am more motivated today than two years ago… ah, for sure! But more, even. And it's not because of today, it's because of what today represents.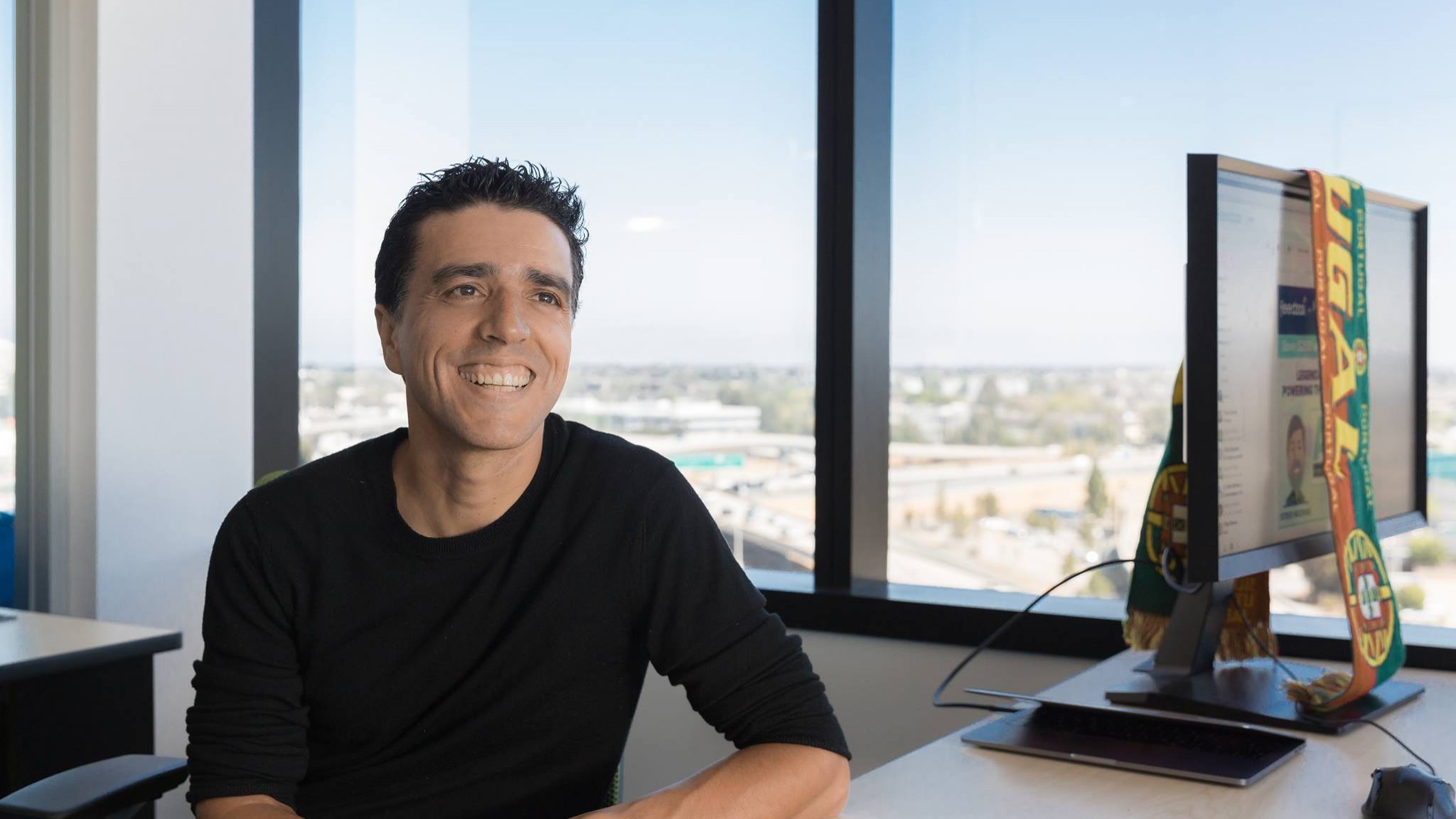 Unicorn. What's next? The stock market?
A lot of execution. We've hired people with a lot of experience in the last year. We hired Curtis Smith as Chief Financial Officer (CFO, ex-Guidehired, public company, valued at 10 billion). He had a team that, what he managed, was the accounting for the public company. We hired Varun Kohli as Chief Marketing Officer, who comes from Symantec, also with public experience. We hired a Head of Legal, Cristina Perez, ex-Vodafone. You see the kind of power houses we are bringing into the company.
I say again: the company has to be independent. Now, I also have an obligation to provide liquidity to investors. Whether it's an IPO, whether it's a SPAC [special purpose acquisition company, denotes a shell company designed to go public without going through the traditional IPO process], the future will tell. Now, that it is on the road to independence – at least, while I am here, I have no intention of selling this – it is. For a simple reason: because if you sell, this control that you have of having development, research and this creation of knowledge in Portugal, disappears. And you are truly creating an ecosystem. Look: OutSystems' Head of AI comes from the Feedzai school. Feedzai's Head of Customer Success in Europe comes from OutSystems. You create this knowledge because you have these big companies that have people with a lot of capacity. And I don't want to end this, I know I don't want it and there are others who don't want it. This is the path that I believe in.
Where does this obsession with Portuguese talent come from?
It comes from people getting upset, because you can, when they tell you… you're not to blame where you're born. And I don't think you owe anyone anything, from a purely intellectual point of view. There's some hubris, which is a natural thing, of others thinking they're great countries. And that's fine, but you, as an individual, don't decide your country because, as individuals, we are equal. In technology, talent really appears anywhere, and you just have to be able to package it and capitalise on it. The power centres that already exist often absorb the talent, and that perpetuates itself. We're breaking that down a little, we're not the only ones, but that's good.
Has cryptocurrency kept your attention for the future?
We are always looking at it. What we do is manage risk for clients, end to end. From the moment you go to open an account to the moment you transact with your token. Your token, to me, whether it's bits and bytes in dollars, or in euros, or in digital currencies, is more or less irrelevant. Then there are some derivatives of how the technology applies to some and others.
Cryptocurrency is an obvious example of this freedom in primary research: today we have people doing pure research into how, in the world of cryptocurrencies, this kind of thing is done. Nobody has ever done this, we are creating this knowledge. We're looking at it because if these systems are going to become transaction systems, I have to be there in the middle because there's inherent risk. We're figuring out how to do that, and I know there's no one else working on it. And having this freedom allows for just that: looking at it. It's not ready yet, and it will not be ready anytime soon, because the market is not asking for it. But you have to do your homework, and have the strength to invest – which is what this money allows – in people who are thinking about it for the next two or three years. So that when it appears, you will be prepared. And that's what we are.