Portugal's economy stabilises in the first week of May
The central bank's daily economic indicator shows that the country's economy maintained its momentum in the first week of May.
The Bank of Portugal's daily economic indicator shows that the Portuguese economy, in the week ending on May 9, registered a similar change to that observed in the previous week, when the country's economic activity accelerated significantly.
"In the week ended May 9, the daily indicator of economic activity (DEI) recorded a similar change to the previous week," the Bank of Portugal reveals this Thursday.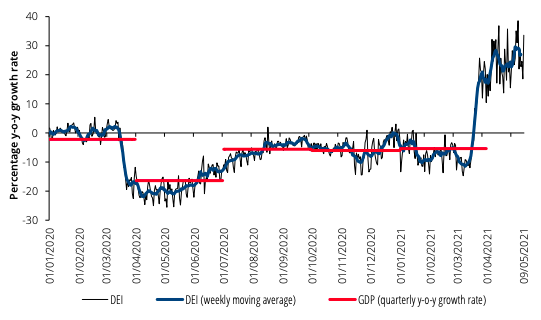 At a press conference on the central bank's results held on Thursday, the governor of the Bank of Portugal (BoP), Mário Centeno, reacted to the DEI figures saying that "the economy continues to grow compared to 2019."
Despite being daily, the DEI is only published on Thursdays, with data up to the previous Sunday. In fact, on May 9, the last day for which the DEI was calculated, the year-on-year growth of the indicator was 33.6%. As for the weekly moving average, the latest figure is that of May 6: a year-on-year increase of 27%.
The next release of the daily economic indicator is scheduled for May 20, relative to the second week of May, which already incorporates the effect of the last phase of the lockdown easing plan. It should be noted that "the DEI may be revised due to revisions of the underlying series or the release of new data regarding the traffic of heavy commercial vehicles, whose release lag is larger," says the Bank of Portugal.