Portugal's economy worsens significantly in the first week of March
In the first week of March, economic activity showed "a larger year-on-year drop" after already having deteriorated in the last week of February.
The daily economic activity indicator from the Bank of Portugal (BoP) points to a continued deterioration of the Portuguese economy in the first week of March, compared to the last week of February, showing a "larger drop". After the strong impact of the lockdown decreed in mid-January, data indicated that the economy eased during the first weeks of February, while remaining in negative territory. However, this easing trend reversed at the end of February and the deterioration continued into early March.
"In the first week of March, the daily economic indicator (DEI) exhibited a larger year-on-year drop than that observed in the previous week," according to the country's central bank.
As the chart from the Bank of Portugal shows, the economic activity indicator has worsened so much in the last two weeks that it is already registering a greater contraction of the economy than at the beginning of the lockdown (second half of January).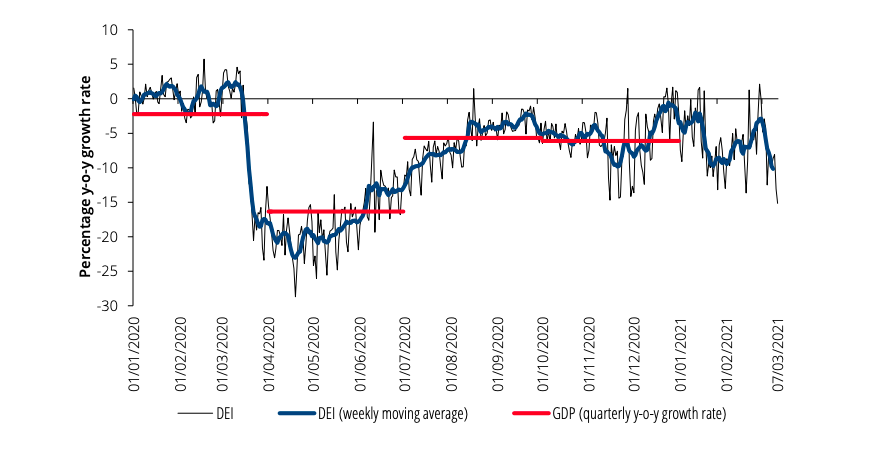 On March 7, the last day for which the DEI was calculated, the year-on-year drop in the indicator was 15.2%. As for the weekly moving average, the latest figure is that of March 4: a 10.2% year-on-year contraction, which exceeds the figures recorded in January (the maximum had been -9.8%).
This indicator released this year by the Bank of Portugal incorporates several dimensions of information such as road traffic of heavy commercial vehicles on motorways, electricity and natural gas consumption, cargo and mail landed at national airports, and card-based payments in Portugal by residents and non-residents.