Tourism slows down. Visitors are spending less time in Portugal
Portugal is not catching up with the trend witnessed on the European level as the number of overnight stays is falling, when it comes to foreigners.
Tourism in Portugal is still on the rise, but fewer foreigners are spending nights in the country. The Portuguese are contributing highly to the increase, having spent more time in hotels in the country in 2018, with a 5.5% increase in comparison to the previous year.
However, tourists' overnight stays are decreasing, which is a countertrend to what has been witnessed in the European Union. Portugal is among the three countries which have registered the slowest growth rates in terms of overnight stays, last year, a growth rate which is even below the average of the EU.
According to the data released by the Eurostat, overnight stays in Portuguese hotels and tourist accommodations, have hit 73 million threshold, which represents a 1.7% increase in comparison to the previous year. The values showed in Eurostat's report are contrasting greatly with those published by the Portuguese Office for National Statistics (INE), since the methods for analyzing the overnight stays in Eurostat's case are different (the latter estimates the total number of overnight stays by calculating an average of the 11 first months of 2018). There is still no official data from our country regarding the number of overnight stays until the end of the year 2018, but until November, hotels and other accommodation establishments recorded around 55 million nights spent.
In only three other countries, the same trend was witnessed: in Spain, Ireland and Luxembourg, foreigners' overnight stays decreased.
Despite this fluctuation, foreigners are still the most representative part of the tourism in Portugal, accounting for 67% of overnight stays. In this section, Portugal performed above the EU average, in which overnight stays are mostly equally spent by residents and foreigners.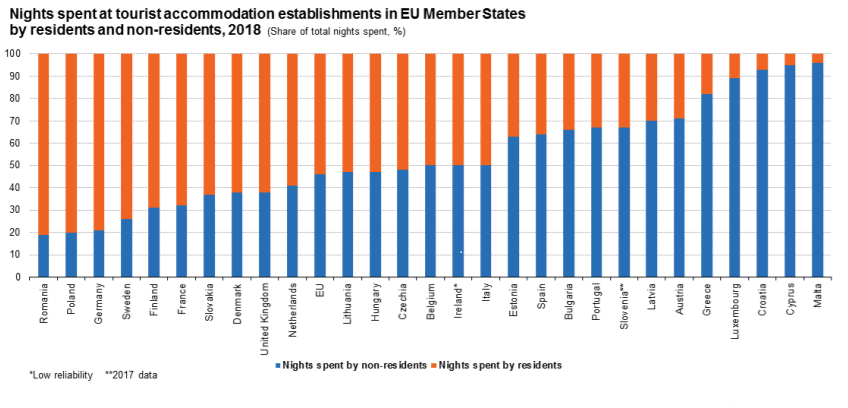 All around the EU, tourism is booming. An estimated 3.1 billion nights were spent in tourist accommodation in the EU last year, a 2.2% year-on-year increase.
The steady increase in the number of nights spent has been "notably driven by the rise in the nights spent by non-residents of the country visited".
Malta was the country which registered the highest increase in overnight stays by non-residents, while Romania recorded the highest amount of nights spent by residents. Our neighbor, Spain, noted the same trend as Portugal, as the Spanish population decided to spend more time visiting their own country.