Prices fell during the month of deconfinement. Portugal's CPI annual rate of change is -0.7%
The year-on-year inflation rate in Portugal is expected to have fallen to -0.7% in May, according to INE, from -0.2% in April.
After the pandemic placed Portugal's inflation on negative ground in April, in May this indicator fell even further. According to data from the National Statistics Institute (INE), the year-on-year inflation rate fell to -0.7% in the fifth month of the year, a deterioration from -0.2% seen in April.
"The Consumer Price Index (CPI) annual rate was -0.7% in May 2020 (-0.2% in April). The annual core inflation rate, which excludes energy and unprocessed food products, was -0.4% (-0.2% in the previous month)," says the INE's highlight, published this Friday.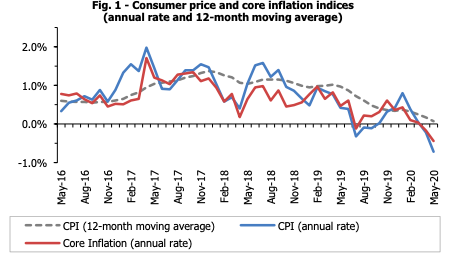 Among the classes that contributed negatively to the year-on-year change in the CPI, transport and clothing and footwear classes stand out, while food and non-alcoholic beverages and restaurants and hotels made a positive contribution.